At ERIKS we make industry future proof. Our 2020 sustainability goals, based in three main pillars: Strengthen Society, Influence Change and Drive Efficiency are milestones that we are determined to achieve. Learn more about how we, together with our people, suppliers and customers, are working towards these goals, by visiting our sustainability website.
Let's make industry Future Proof
ERIKS Annual Sustainability Report 2019 is available for download on our Sustainability website.
Safety in ERIKS
The nature of our business, as well as our diverse business operations, inevitably create health and safety risks. Our overarching aim is to limit those risks as much as possible. To help us do this, we have a robust health and safety management structure. Each country has a dedicated Health and Safety, Environment and Quality (HSEQ) Manager, and HSEQ professionals in place, with larger locations also having a safety representative available.
Our primary safety campaign, 'zero = hero', was introduced in 2016 and is now firmly established across all our regions. Our six golden safety rules are displayed at all our locations and are the core behaviours we expect all employees and visitors to adhere to.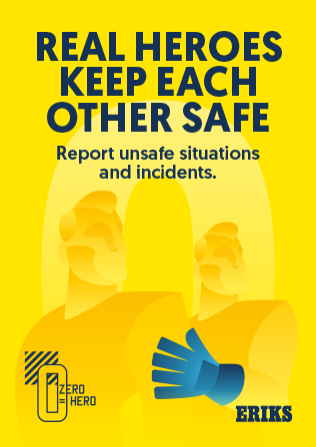 Previous Sustainability Reports
2018 | Sustainability Report
2017 | Sustainability Report
2017 | Sustainability Report Appendix
2016 | Sustainability Report